Saturday, 6:00pm and Sunday, 9:15am & 10:45am
*Pre-registration is required for all onsite services.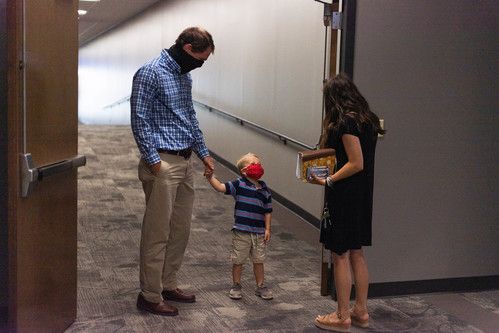 When will we have services onsite again?
We began onsite services the weekend of June 20 & 21.
Why do I need to pre-register for an onsite service?
In accordance with CDC guidelines regarding social distancing we have limited seating available for each service time. Your pre-registration helps our volunteers know best how to prepare and assures that everyone who comes will have a seat. Think of it as us saving a seat for you (although seating will not be assigned). Check in will be at the main doors when you arrive. If you have not pre-registered you'll have the opportunity to register onsite if there are still available seats remaining.
Didn't the four-phase plan state that we would not proceed to the a next phase if Hamilton County Covid 19 numbers were still going up? It seems they are. So why are we planning to re-gather?
The counsel we are receiving from our medical professionals is that the number of new cases is not the best guide in determining when to re-gather. As testing has greatly increased in our area, it is no surprise that the numbers of new cases reported are also increasing. The primary concerns are the numbers of hospitalizations, ICU cases, and any exponential growth in these critical areas. Based on the input we continue to receive from the medical task force, the primary sentiment both from the electronic communications and from many conversations we are having with the doctors was that we could/should proceed with re-gathering under the guidelines we developed (social-distancing, use of masks, smaller gatherings, etc).
Do I really need to wear a mask?
We recognize that opinions and feelings and emotions are all over the map when it comes to masks. For this season, out of love and deference to others we will ask that all who attend onsite services wear a mask at all times while they are in the building. If you do not have a mask, our volunteers will give you one at the door. For clarity and intelligibility, those leading the service will remove their masks only when they are on the platform. At all other times they will also be wearing masks.
When will masks no longer be required?
We are regularly monitoring federal and local government suggested guidelines, as well as seeking input and feedback from doctors and other medical professionals both within and outside of our church family. We are unable to point to a specific date right now.
I'm over 65. Can I come to a service onsite?
I've tried to register but I am unable to. Am I doing something wrong?
Registration will open every Sunday at noon for the upcoming weekend services. For example, if you are trying to register for any service on the weekend of June 20 and 21, that registration will open at noon on Sunday, June 14, and will remain open until the service is full or the service begins, whichever comes first. We know that you're excited to save your seat. Thanks for being patient as we take this a week at a time.
What safety precautions are being taken to clean the building?
All of our volunteers for all of our services will be wearing masks and, depending on their specific role, plastic gloves. Our check-in, greeting, and other processes are designed for you to have to touch as few surfaces as possible. Volunteers will hold doors open for you. Bathroom doors will remain propped open. Water fountains will not be operational and will be covered. Our cleaning team will clean the bathrooms, door handles, worship center seats, etc. before, in between, and after every onsite service.
I'm not quite ready to be back at the building. Are online services going to stop?
For the foreseeable future, we will continue to pre-produce weekend services that will stream online at all three weekend times. We know that many people will not return onsite until later for various reasons. Therefore, we are committed to providing a high-quality online experience for everyone.