Day 1: Surrendering My Whole Life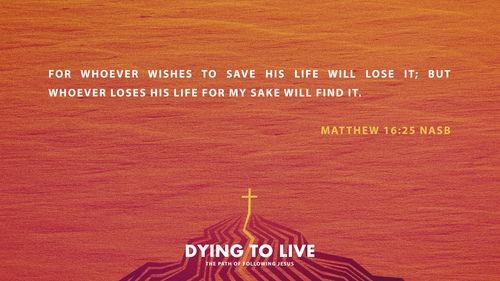 In the book,
My Heart, Christ's Home
, Munger asks the Lord, "Could I give to you the responsibility of keeping my heart what it ought to be and myself doing what I ought to be doing?" In the response from the Lord Munger writes, "You can't live out the Christian life in your own strength. This is impossible. Let me do it for you and through you." When we become a follower of Jesus, we are not simply committing to be a better person. We are surrendering full control to Jesus, not just in the moment of salvation, but every moment after. We must maintain a consistent mindset of denying self and surrendering to Jesus.
Questions to consider:
Read Matt. 16:24-27. What are the requirements of being a follower of Jesus in these verses?
What does this teach us about living the Christian life?
What does this passage teach us to surrender or "lose" as a follower of Jesus?
How can you surrender control to Jesus in your life today?
What area or expectation in life do you most need to give up in order to follow Jesus?
We receive accolades or awards for many different things in life. We can be tempted to live our life looking for ways to achieve these accolades and awards, and if we are not careful we can become concerned only with getting rewarded for what we do. In the passage today, we see that all glory or recognition really belongs to the Lord.
Questions to consider:
According to the verse today, what do we owe credit to God for in our life?
How does this lead to God being the One to deserve or be worthy of all glory?
How does this truth keep us from taking credit or seeking our own recognition?
List some specific things (characteristics, talents, awards, etc.) in your life that God has given to you.
How can you give Him credit for these things in a way that leads others to acknowledge God and honor him?
Day 3: My Victory, His Glory
After Moses led the people through the Red Sea to freedom from the Egyptians, he sang a song honoring the Lord for the victory. When we face trials in life, our best hope for victory and strength is to trust in the Lord. In the midst of battles and in our victories, let us be quick to praise the Lord and give Him the glory for being our strength!

Questions to consider:
Read Moses song of deliverance, Ex. 15-1018. Make a note of what Moses gives God credit for.
Make a note of all that Moses takes credit for.
What does Moses take credit for?
What are current battles or victories in your life?
Take some time to praise God for the victories He has given you, and ask Him for strength in the battles you are in.
Day 4: Reflecting His Glory
People may ask, if I'm not supposed to try to be a good Christian then am I just supposed to do nothing? It can be easy to confuse surrender to doing nothing. However, in our verse for today we see that Jesus commands us to do good deeds. When we allow Christ to live through us, He will cause us to walk in the good deeds He has prepared for us (Eph. 2:10) so that others can see Christ in us. Instead of doing for God, we allow God to work through us so that others can experience His love through us, which will cause them to praise Him not us.

Questions to consider:
Read Matthew 5:13-16. What does this passage teach about our purpose?
According to this passage, what should our good works lead to?
How has your relationship with Jesus led to someone else praising God?
How can you serve God in a way that encourages other people to worship Jesus?
Day 5: Abiding Leads to Worship
We have spent the past 5 weeks together considering what it means from today's passage to be a follower of Jesus. This passage teaches that as we grow an intimate relationship with Jesus (abide) the results will be Him producing a life (bear fruit) in us that leads both us and others to worship Him (glory to God). Our focus should be on our relationship with Jesus. The product of us pursuing Jesus will be a life that leads to worship!

Questions to consider:
Take a moment to look back at your journal or notes, or think through the past five weeks of messages and devotions.
What is the message that stands out to you?
What steps of obedience have you taken over these past few weeks?
How has your faith in and love for Jesus been strengthened?
Write out your own summary of this passage after considering what the Lord has taught you.