Day 1: Surrendering Our Abilities and Hobbies
This week we will consider how to surrender our skills and abilities, plus our hobbies and entertainment in life, which Munger refers to as the workroom and rec room in the home of our lives. Munger refers to the work room as the ways we use our skills and abilities for the kingdom of God. How are you using the way God created you to serve others. Munger notes, "It's not our ability, but our availability that's important." And how about the things you do for entertainment. Many people believe the lie that you cannot have fun, and be a Christian. Jesus said he gives us joy, not misery and boredom.
Questions to consider:
What two parts of our lives does Paul encourage us to use for the glory of God?
How do we use our abilities and talents in our words and deeds?
What abilities has God given you? Consider things you are "naturally" good at.
How can you use those abilities to build the kingdom of God?
Even Jesus desired others to pray with Him. He asked His disciples to pray as He prayed to His Father during the darkest hour of His humanity. We also need fellow believers to join us in prayer as we seek the Father's will for our lives. Don't hesitate to invite others to join you as you humble yourself to your Father's will.
Questions to consider:
In this passage, what did Jesus ask the disciples to do?
Are you willing to share your needs with others?
Do you believe in the power of others' prayers for your life?
Will you yield to God's Will today? Who can you ask to pray with you over an issue right now?
Day 3: Prayer In Jesus' Name
When we come to God in prayer, making a request, we are to come in Jesus' name. That means more than a religious phrase to tack on at the end of our prayer. It means that we come in His merit, not our own. It means that we ask from an abiding relationship with Him, filtered through His Word. It means that we ask for His will, not just our will. It means that we ask for His glory, not our own. Perhaps the most important reality is that by prayer, we are trusting Him to work, not trusting our own works to make it happen.
Questions to consider:
What is Jesus instructing regarding our own prayers, when He says "I do not speak on My own initiative"?
What is Jesus modeling regarding our own prayers, when He says "the Father abiding in Me does His works"?
What does the passage indicate it takes to do greater works that Jesus?
What limits does Jesus place on our asking?
Who does verse 14 indicate is actually accomplishing the greater works?
We are told to be anxious for nothing. This is possible as we take all of our anxieties to the Lord and share them with Him. We need to spend time talking to God about what is causing us to be anxious. Then with a thankful heart we should make supplication (petition) to God regarding our anxieties. And finally, make whatever request we may need as we surrender these anxieties over to the Lord.
Questions to consider:
What are the two things being contrasted in this verse?
Who are we to make our requests known too?
What are you anxious about today? What should you do with those anxieties according to this passage?
Given all that has happened in Chattanooga over the past three months, you and those you love may have some anxieties in life right now. Take some time and be honest with God about these.
What does the passage teach us about thankfulness? Take some time and write down things you are thankful for in the midst of your anxieties.
Day 5: Pray According To Grace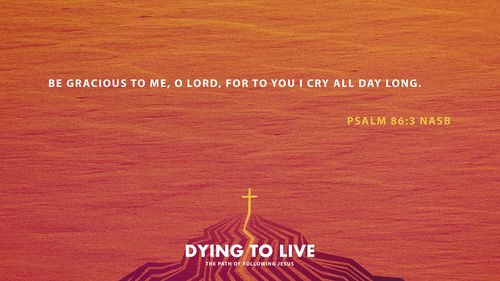 When David prayed, he did so asking for God's grace. David didn't ask God to answer his prayer based on some good deed or privilege. David didn't expect God to answer because of how he prayed or who he was. David prayed and expected God to answer based on the grace of God alone. Take a moment to read Psalm 86 in its entirety to see this.
Questions to consider:
Mark or make note of how many times David refers to God in his prayer. What do you learn about God from David's prayer?
Mark or make note of how many times David refers to himself in his prayer. What does David confess about himself in this prayer?
What is David asking God for in this prayer?
How does this prayer encourage you to pray more boldly?
What are you praying for in your life right now? Are you praying according to something you have to offer, a bargain with God, or strictly asking according to His grace?